Webkinz Deluxe Membership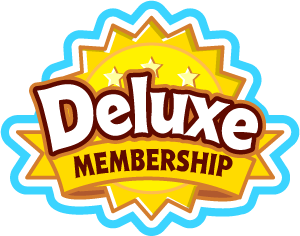 Here are the great features you'll get every month with your Deluxe Webkinz World membership:
A gift box including an amazing exclusive piece of clothing, available ONLY to Deluxe members*
Special access to a Deluxe activity page in the Today's Activities section of Webkinz World
Access to the Deluxe members-only Arcade Games!
3000 eStore Points to spend at the Webkinz eStore (awarded to the purchasing eStore account)*
* Not included in $2 1 Month Membership.
And don't forget the cool Deluxe member hat that you get when you first sign up for Deluxe. You can wear your hat with pride and show all of Webkinz World that you're an ultimate fan!
To sign up for Deluxe Membership, please have a parent visit the eStore at www.ganzestore.com
Full Year Bonus!
Everybody who signs up for an entire year of Deluxe membership gets an extraordinarily unique eStore item free! This item won't be available anywhere else!
Plan
1 Month
3 Month
6 Month
Annual
Price
$2


+ Applicable Taxes

$15


+ Applicable Taxes

$25


+ Applicable Taxes

$45


+ Applicable Taxes

Monthly eStore Points
500
3000
3000
3000
BONUS eStore Points*
2000
5000
Associated Accounts
1
1
1
1
Monthly Gift Box
Deluxe Activity Tab
Deluxe Only Arcade Games!
Membership Hat**
EXCLUSIVE Super Deluxe item!*
* One time award, upon purchase of membership.
** One per account, can not be traded or sold.